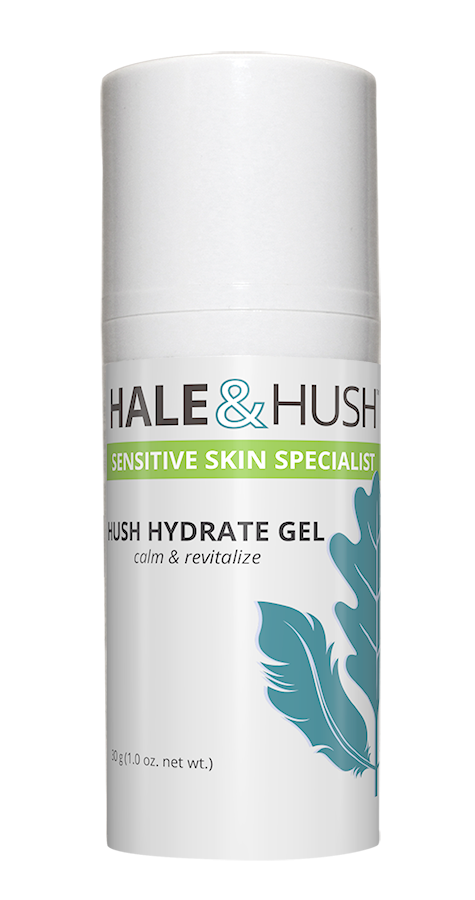 Hush Hydrate Gel - (Calm & Revitalize) NEW LARGER SIZE!
Hush Hydrate is a delicate, moisturizing formula rich in botanical extracts that are not only highly antioxidant but also skilled
inflammation fighters. The most remarkable extract is that of black rice, which studies have shown is a potent anti-inflammatory and anti-allergic compound. Hush Hydrate brings peace to aggravated skin.
BENEFITS
• Anti-inflammatory and anti-allergy effects heal skin from the inside out
• Supports moisture and protection against environmental-damage effects while also offering detoxifying and brightening benefits
• Soothes and cools skin immediately on contact
• Dual Purpose: can be used as a mask or a light weight moisturizer
KEY INGREDIENTS
Anthocyanins (Black Rice Heart):
• Derived from black rice; Superior antioxidant activity to fight free radicals and oxidative damage.
• 10 times higher C3G (Cyanidin-3-glucoside) concentration than leading standardized anthocyanin extracts. C3G is a subtype of
anthocyanin particularly helpful in supporting healthy cellular aging.
• Anti-inflammatory, antimicrobial, anti-aging; defends against UV damage.
BioColour Components:
• Melia Azadirachta (Neem) Leaf Extract and Melia Azadirachta (Neem) Flower Extract: also known as the "four o'clock flower",
this delicate flower's extract is exceptionally successful at calming reactive skin, including reducing discomfort (like sensations
of pain, itching and stinging) and visible redness; improves skin's long-term resilience against sensitivity triggers; supports skin's
barrier function and improve hydration.
• Amino Esters-1: skin-conditioning agent comprised of Aspartic Acid, Arginine, Glycine, Glutamic Acid, Histidine, Lysine and their esters.
• Coccinia Indica Fruit Extract: red fruit used as natural pigment; anti-bacterial properties.
BioColour Components (continued)
• Solanum Melongena (Eggplant) Fruit Extract: contains nasunin, pigment that gives purple color; antioxidant properties.
• Aloe Barbadensis Flower Extract: promotes healing and has soothing properties.
• Lawsonia Inermis (Henna) Extract: commonly used as pigment; anti-inflammatory; anti-bacterial properties.
• Ocimum Sanctum Leaf Extract: commonly referred to as Tulsi or Holy Basil; contains anthocyanin pigments; anti-bacterial and
anti-inflammatory properties.
• Ocimum Basilicum (Basil) Leaf Extract: astringent and soothing; contains beta-caryophyllene with anti-inflammatory effects;
natural pigment.
• Curcuma Longa (Turmeric) Root Extract: antioxidant, healing and anti-inflammatory; yellow pigment.
• Pearl Powder: works to revitalize, protect and hydrate skin; pearls consist of aragonite (CaCO3) and traces of Conchiolin, a
silk-fibroin-like compound; Traditional Chinese medicine believes the valuable minerals and amino acids from pearl powder
can nourish the skin and slow down aging processes by improving the metabolism, supporting moisture and protection against
environmental-damage effects; also known for detoxifying and brightening effects.
---
---
More from this collection