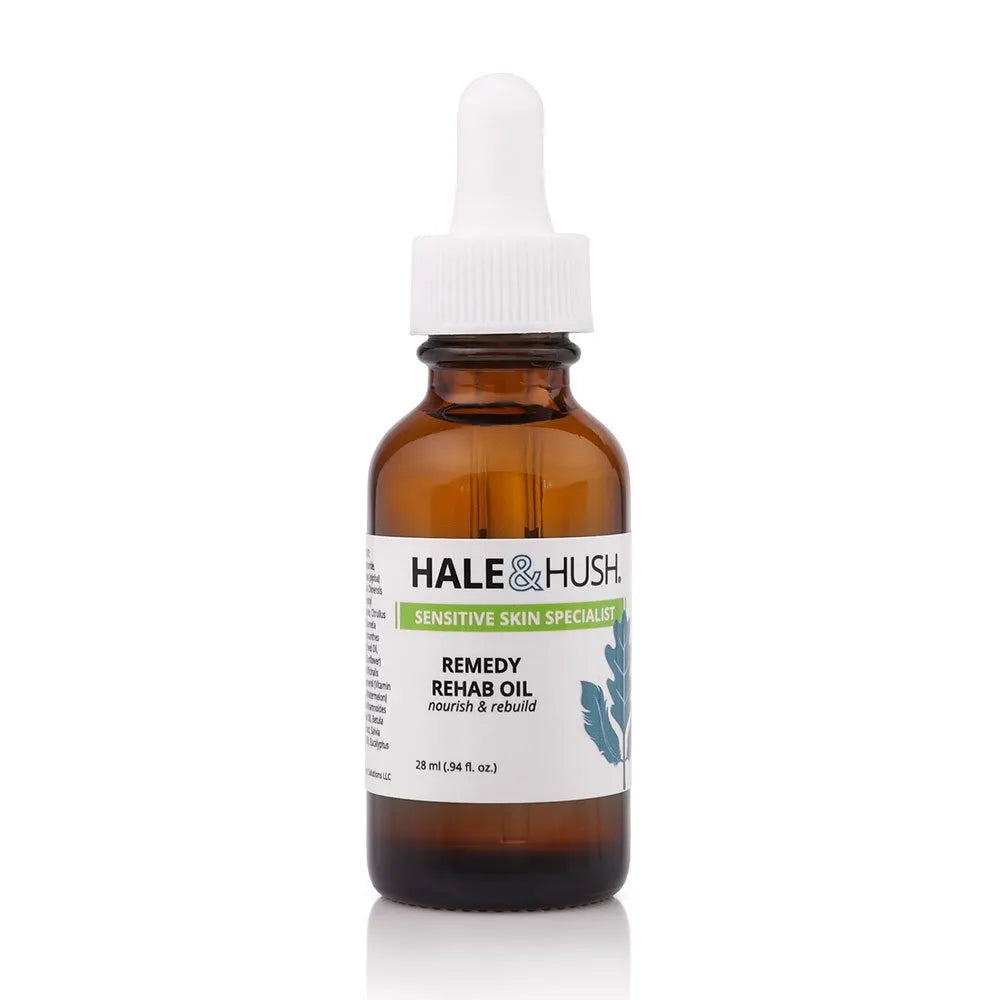 Remedy Rehab Oil - Nourish and Rebuild 1oz
This botanical oil blend is formulated into a lightweight consistency with a low comedogenic rating that can easily penetrate and moisturize the skin. This oil works to deeply nourish and quickly hydrate the skin without feeling overly heavy, and leaves skin feeling soft and supple. This blend of replenishing oils contains a combination of nourishing ingredients full of antioxidants, fatty acids, and anti-inflammatory functions to help rebuild the skin, brighten, restore elasticity, and reduce the signs of aging. These advanced blend of oils can also correct texture, tone, and repair damage while boosting overall skin radiance.
BENEFITS:
Strengthens the skin barrier to trap moisture and hydrate the skin, preventing TEWL.
Boosts the skin's resilience and elasticity, increasing skin radiance.
Nourishes, soothes, and calms sensitive skin.
Replenishes the skin by increasing collagen synthesis and reduces the signs of aging.
Supports skin health, repairs damage, and increases wound healing.
Rehabilitates and rebuilds dull, dry, and dehydrated skin.
KEY INGREDIENTS:
Simmondsia Chinensis (Jojoba) Seed Oil: Jojoba oil is a gentle non-comedogenic oil that can be used on any skin type. Jojoba oil contains antimicrobial and antifungal properties. It has multiple health benefits, including moisturizing the skin, acting as an antioxidant, controlling sebum production, promoting collagen synthesis and wound healing.
Squalane: Squalene is a natural substance manufactured within our own skin that offers protection and hydration. When applied to skin, it imitates sebum improves elasticity by increasing moisture retention and may reduce the appearance of pore size, fine lines, and wrinkles. Squalane also has antioxidant properties which help to neutralize skin damage from environmental aggressors.
Citrullus Lanatus (Watermelon) Seed Oil: Watermelon Seed Oil is a light, fast absorbing and clarifying oil that has a small molecular weight, so it absorbs quickly and promotes hydration.  This oil contains a healthy amount of Vitamin E as well, a powerful antioxidant that fights free radical damage.  High in anti-inflammatory properties, this oil also helps with detoxification, fights aging, helps with uneven skin tone, and increases blood circulation.
Plukenetia Volubilis Seed Oil (Sacha Inchi Seed Oil): Plukenetia Volubilis Seed Oil is a lightweight oil that is easily absorbed into the skin and one of the richest sources of omega fatty acids. Its astringent and anti-inflammatory properties are known to facilitate the healing of wounds and burns and is also known to support skin health, repair damage, and delay the appearance of fine lines, wrinkles, and discoloration. Plukenetia Volubilis seed oil is a perfect for sensitive skin while reducing trans epidermal water loss, normalizing barrier functions, and protecting DNA functions.
Limnanthes Alba (Meadowfoam) Seed Oil: Meadowfoam Seed Oil is high in Vitamin C and E, contains omega-9 fatty acids, linoleic and oleic acid.  This oil protects from free radical damage, sun damage and UV radiation, encourages cell turn over, brightens skin while reducing fine lines and wrinkles.  Although this product is beneficial for all skin types, it is especially useful for those with dry, sensitive skin, rosacea, and eczema.
Calendula Officinalis Flower Extract: Calendula extract is a plant-based ingredient that enhances skin hydration, firmness, and elasticity, which may prevent or delay signs of aging. It may also reduce skin damage caused by oxidative stress and UV radiation. It also contains anti-inflammatory, antiseptic, and wound-healing properties, which may help treat skin irritation, discomfort, redness, acne, and sunburn.
Helianthus Annuus (Sunflower) Seed Oil: Sunflower seed oil, due to its high fatty acid content helps support the skin's natural barrier, reduction of inflammation, and support hair growth. It is mainly used for its potential to provide benefits such as decreasing inflammation, improving texture and feel of the skin, improves elasticity and hydration.  The potential anti-inflammatory properties of sunflower seed oil make this an excellent ingredient for those with symptoms of dry, flaky, or irritated skin.
Ingredients:
Caprylic/Capric Triglyceride, Simmondsia Chinensis (Jojoba) Seed Oil, Simmondsia Chinensis (Jojoba) Seed Wax, Heptyl Undecylenate, Squalane, Plukenetia Volubilis Seed Oil, Limnanthes Alba (Meadowfoam) Seed Oil, Helianthus Annuus (Sunflower) Seed Oil, Calendula Officinalis Flower Extract, Tocopherol (Vitamin E), Citrullus Lanatus (Watermelon) Seed Oil, Hippophae Rhamnoides (Sea Buckthorn) Seed Oil, Betula Alba (Birch) Leaf Extract, Salvia Sclarea (Clary Sage) Oil, Eucalyptus Globulus Leaf Oil
Apply Remedy Rehab Oil to cleansed skin once or twice daily. Always apply a sunscreen product to provide a protective barrier once Remedy Rehab Oil is absorbed. Can also be used for facial massage.
CAUTION: Do not use if the skin is broken/cracked. For external use only. Avoid contact with eyes. Keep out of reach of children.
---
---
More from this collection